Safety, efficiency and security in the field
Manage your fleet wherever the job takes you
Field service fleets that support the oil and gas industry face unique challenges when it comes to maintaining safe and productive operation. Equipping your fleet with oil and gas telematics software from Nexex can help your fleet managers stay in touch with your people, vehicles and equipment to help keep things running smoothly and safely.
Key benefits
Manage driver safety with scorecards and alerts
Track all vehicle movements and activities
Report on asset location and utilization
Monitor vehicle and asset maintenance
Improve safety in the field and on the road
Oil and gas field service fleets routinely transport hazardous materials and equipment to remote locations. Safety is paramount in every aspect of the job for a mobile workforce, but especially in transportation over the road when the public is at risk. Our fleet management software can help you:
Reduce unsafe driving behaviors with timely alerts
Monitor excessive idling
Ensure DVIRs are conducted
Create configurable reports and dashboards to monitor safety improvement efforts
Protect your investment with asset tracking
Oil and gas equipment left unattended at a job site invites the potential for misuse, abuse or outright theft. Oil and gas fleet tracking from Verizon Connect can deliver peace of mind with:
Live maps that show the location of vehicles and assets in remote areas
Geofencing capabilities to detect any "out-of-bounds" activity
Alerts for unauthorized use
See what's making you money and what isn't
With the variability of oil prices, raising field productivity is critical. Unproductive or underutilized equipment can't hide with oil and gas equipment tracking in place.
Better coordinate resources with location services
Monitor engine hours for each vehicle or powered asset
Leverage utilization reporting to make "better-informed" decisions
Automate IFTA reports for additional cost savings and ease
Keep your fleet running where and when it matters most
Servicing the oil & gas industry can put fleet vehicles into some rough terrain where spare parts are a long way away. Verizon Connect fleet management solutions can help you address vehicle maintenance issues before they become problems.
Receive near-real-time alerts and reports that analyze vehicle health
Schedule routine maintenance more efficiently to help reduce breakdown risks and increase uptime
Expand your capabilities with our Fleet solution
An oil and gas operation the size of yours needs more customizable solutions and integrations. You can better manage your vehicles and assets with these additional capabilities:
Dispatch and ETA — quickly respond to outages by assigning jobs to the appropriate drivers and providing customers with real-time driver information
Maps with weather overlays — track changing conditions in the field so your fleet can respond accordingly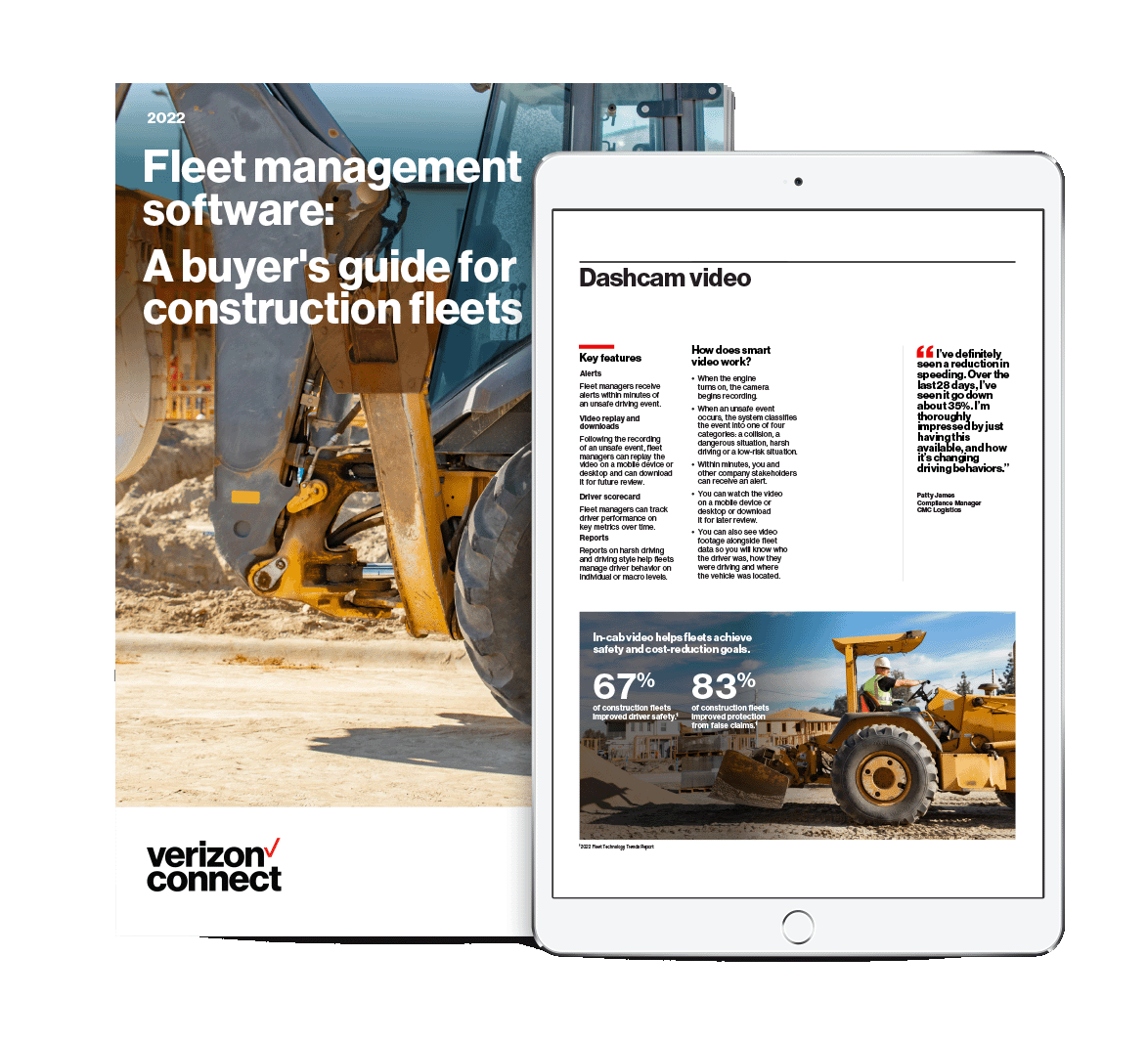 Buyer's Guide for Construction
Get the Buyer's Guide for Fleet Management and Asset Tracking Solutions to read helpful tips on purchasing a heavy equipment monitoring solution.